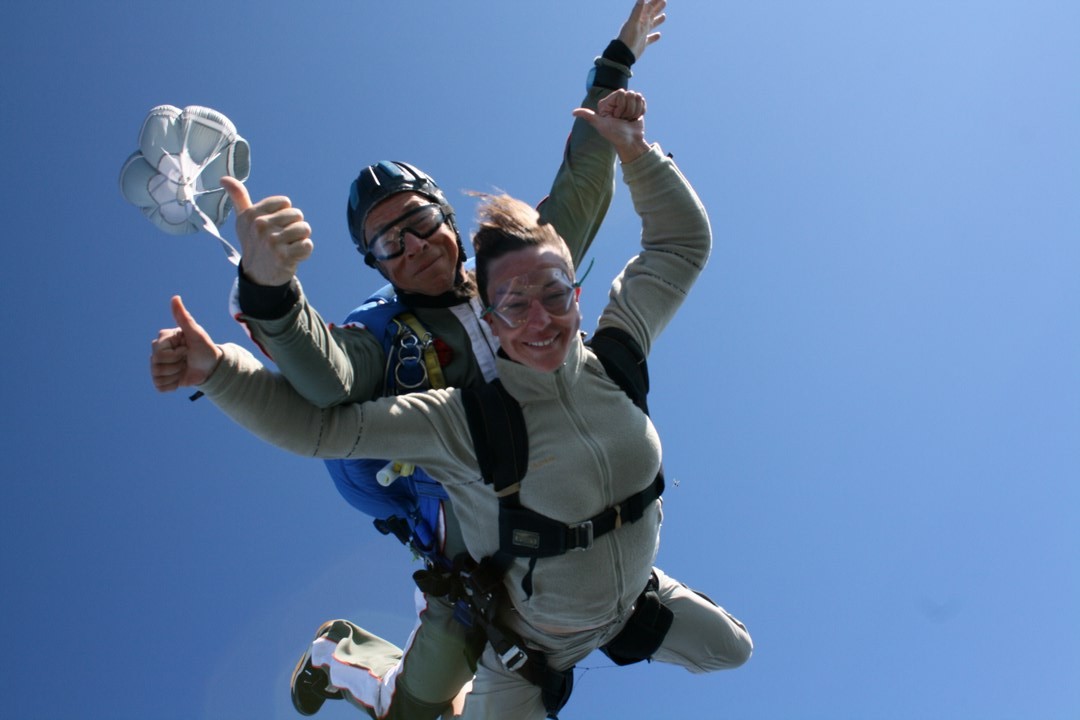 You will exit the aircraft at nearly 14,000 feet where you will experience the rush of free falling through the beautiful sky  at 120 mph. The exhilarating freefall will last approximately one minute, followed by a  five to six minute scenic and peaceful canopy flight until  a soft landing.
You always dreamed of human flight without never daring to do it! Come to discover the exceptional feelings of freefall, and the beautiful flight over the Pyrenees or the Garonne River. 
Our aerial videographers will make your jump memorable
by capturing your experience from the point of getting dressed up for the tandem skydive, moments of the climb to altitude, and then the videographer will exit the aircraft with you and your instructor and fly around you to capture the excitement of falling through the sky.
DESCRIPTION :
After a short briefing by the instructor, you will be equipped with a harness. You will climb in the  PILATUS aircraft for 15 minutes of flight above the  Pyrenees (around Pau) or the Garonne River (La Réole). You will then free fall for almost 1 minute. You will have the sensation of being on your own. After you open the parachute, the instructor offers guidance as you fly the parachute together during few minutes under the canopy. The final landing is made in the same area that you took off from where your friends and family will be waiting to receive you.
A tandem jump is a great way to experience the thrill of skydiving while under close supervision of an experienced Instructor.
VIDEO :
A great way to remember your first experience is to purchase a live free fall video of your skydive. You only get your first experience once! Each video is expertly edited, accompanied by music!  You can choose to add some photos of your jump too. Everything will arrive to you on a USB FLASH DRIVE !
 GENERAL CONDITIONS :
. You  require a medical certificate before participation in parachuting activities
. You must be at least 15 years of age : a parental approval is needed for minors
. Weather : Skydiving is a weather dependent sport.
. Weight Limits are 200 lbs
. Dress in seasonably comfortable clothing.  ISports shoes are recommended.

PERIOD: From March to November

PRICES:
. 280 € (Without video) the tandem jump with instructor.
. Video or photos option : 80 € ( usb pen drive)
.  Video + photos option 100 € ( usb pen drive)
for a total price of 360 € with video or photos included and of 380 € with video + photos included